A Spy in the House of Love is the 9th episode of Dollhouse. It was written by Andrew Chambliss and directed by David Solomon. The episode aired on April 10, 2009.
Production
Edit
The working title of this episode was "Four Engagements."
When a traitor is discovered inside the Dollhouse, Echo and Sierra are programmed as spy hunters to uncover the culprit. Meanwhile, Ballard receives surprising news from Mellie, and Adelle harbors a secret.
Engagements
Edit
Reception
Edit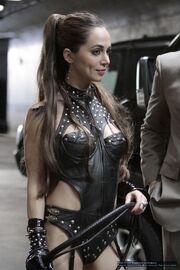 "A Spy in the House of Love" reached 3.503 million viewers, a 2.2/4 Rating/Share, a 1.4/4 Rating/Share in the 18-49 demographic and a 1.6/5 Rating/Share in the 25-54 demographic. The episode was watched by 2.891 million viewers Live, 3.505 million viewers Live+SD and 4.399 million viewers Live+7. The episode averaged a 1.08 Rating in the 18-49 demographic Live, a 1.39 Live+SD and a 1.87 Live+7. Overall "A Spy in the House of Love" had 1.503 million DVR viewers. 34.2% of all viewings of "A Spy in the House of Love" happened via DVR, that's the sixth greatest percentage of DVR viewing for broadcast TV shows of that week.
The half-hour breakdown showed 3.63 million viewers and 1.4/5 Rating/Share in the demo between 9:01 p.m. and 9:30 p.m., and 3.49 million viewers and a 1.3/4 between 9:30 p.m. and 10:00 p.m.
The quarter-hour breakdown:
| Time Period | Rating/Share | Rating/Share (18-49) |
| --- | --- | --- |
| 9:01 PM-9:15 PM | 2.3/4 | 1.4/5 |
| 9:15 PM-9:30 PM | 2.2/4 | 1.4/4 |
| 9:30 PM-9:45 PM | 2.1/4 | 1.3/4 |
| 9:45 PM-10:00 PM | 2.2/4 | 1.4/4 |
Main cast
Edit
Recurring roles
Edit
Guest starring
Edit
Promotional Photos
Edit
External Links
Edit
Cite error: <ref> tags exist, but no <references/> tag was found
Ad blocker interference detected!
Wikia is a free-to-use site that makes money from advertising. We have a modified experience for viewers using ad blockers

Wikia is not accessible if you've made further modifications. Remove the custom ad blocker rule(s) and the page will load as expected.