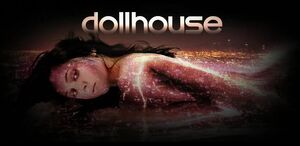 The introduction sequence of Dollhouse will be 30 seconds long and "introduces the key players and sets the tone".[1]
Theme Song
Edit
In September 2008 it was announced that the theme song for Dollhouse was written by Jonatha Brooke and Eric Bazilian.[2] It contains the line: "What you don't know won't hurt you. Maybe the lies are true?"[1] Brooke recalls that Joss Whedon told the people at Fox: "Okay, my fantasy would be to have Jonatha Brooke singing a mixture of 'Careful What You Wish For' and 'The Dance of the Sugar Plum Fairies.'"[3]
Notes & references
Edit
Ad blocker interference detected!
Wikia is a free-to-use site that makes money from advertising. We have a modified experience for viewers using ad blockers

Wikia is not accessible if you've made further modifications. Remove the custom ad blocker rule(s) and the page will load as expected.