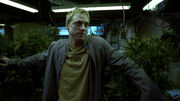 Stephen Kepler was an award winning environment systems consultant hired during the construction of the Los Angeles Dollhouse, essentially to make it "invisible" by taking it off of the city's utility grid. He designed it to recycle all its atmospheric and water wastes as well as reducing all its heating and cooling needs by shielding it underground beneath the office building above it. Kepler (apparently an agoraphobic recluse) never visited the site himself, never leaving his apartment while designing it, so he'd never learned where the Dollhouse was located. Kepler was a fervid environmentalist, intent on reducing his carbon footprint to the extent of attempting to recycle his own urine. He was a fan of tofu satay and Pom. He also grew his own hydroponic "medicinal carrots." Or perhaps he's just taking care of them for a friend.
In the episode Briar Rose, Alpha murders Kepler in L.A. in his own unique style, then dumps the body in Tucson, Arizona, intentionally diverting Los Angeles Dollhouse security's focus from L.A. to Tucson. He then assumes Kepler's identity, replacing Kepler's image with his own in Kepler's computer records. Paul Ballard tracks down who he thinks is Stephen Kepler and coerces him into accompanying him to the Dollhouse, with the intent of using Kepler's knowledge and skills to help him free Caroline. This doesn't work out quite the way Ballard planned.
Ad blocker interference detected!
Wikia is a free-to-use site that makes money from advertising. We have a modified experience for viewers using ad blockers

Wikia is not accessible if you've made further modifications. Remove the custom ad blocker rule(s) and the page will load as expected.